Greenville Healthcare Celebrates Healthy Weight Week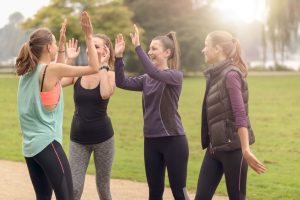 The third week in January each year marks the beginning of Healthy Weight Week, a time dedicated to learning the ins and outs of a healthy eating lifestyle. Healthy Weight Week emphasizes that dieting is not the desired way to lose weight but rather we need to take the time to establish healthy relationships with food. While it most certainly takes longer than a week to make permanent life changes, Greenville Healthcare medical practice Greenville NC encourages you to use this week to take the first steps in developing a healthier lifestyle. 
The Time Is Now 
January is the perfect time of year to tackle your health goals, and while we all want to accomplish our New Year's resolutions as quickly as possible, healthy weight loss is a gradual process. People who lose weight at a steady pace, about 1 to 2 pounds per week, are more likely to keep the weight off. Healthy weight loss goes far beyond temporary diet programs; maintaining a healthy weight requires permanent lifestyle changes in eating and exercise habits. 
The word 'exercise' seems to have developed a negative connotation over time with some people becoming exhausted at the mere mention of it. However, it's time to make exercise fun again! Although the words 'exercise' and 'fun' aren't usually associated with one another, they can be. Think about when you were a kid and you would run around the yard playing tag or spend hours playing soccer with friends. Exercising can be enjoyable as long as you determine what activities work best for you. Whether it be a therapeutic walk outside or an upbeat group fitness class, do things that make you look forward to working out!
Restrictive diets are not sustainable weight loss methods, and they tend to discourage people to the point where they give up on their healthy eating goals altogether. Eating healthy and eating less are not synonymous. Healthy eating plans include eating lots of nutritious foods, enough to keep you energized and full. Remember that effective eating plans are more about providing your body with the nutrients it craves rather than counting calories. 
Feel As Good As You Look 
Too many people tend to focus on the number on the scale, yet physical health isn't the only thing to consider when trying to reach your healthy weight. Bettering your mental health by cultivating a positive body image is equally as important. Here at Greenville Healthcare, your local medical practice Greenville NC, we want you to feel as good as you look. 
Healthy Weight Week can continue on far longer than a week if you focus on forming long-lasting healthy habits. As a family medical practice Greenville NC, Greenville Healthcare is committed to serving the citizens of Greenville and surrounding counties with compassionate patient care. You can walk into our clinic today, no appointment necessary, for quality health care at an affordable price. 
Greenville Health Care, Medical Practice Greenville NC 
Greenville Health Care is a Family Practice and Walk-In Greenville NC Medical Clinic dedicated to serving the citizens of Greenville and surrounding counties with excellent, timely, and compassionate patient care. Contact us today!